5 Gallon Water Bottling Plant
It is an fully automatic 3 galon to 5 gallon water bottling plant. Completely 5 gallon bottle filling line from A to Z. This bottling line is for 3 gallon, 5 gallon and 6 gallon bottle water.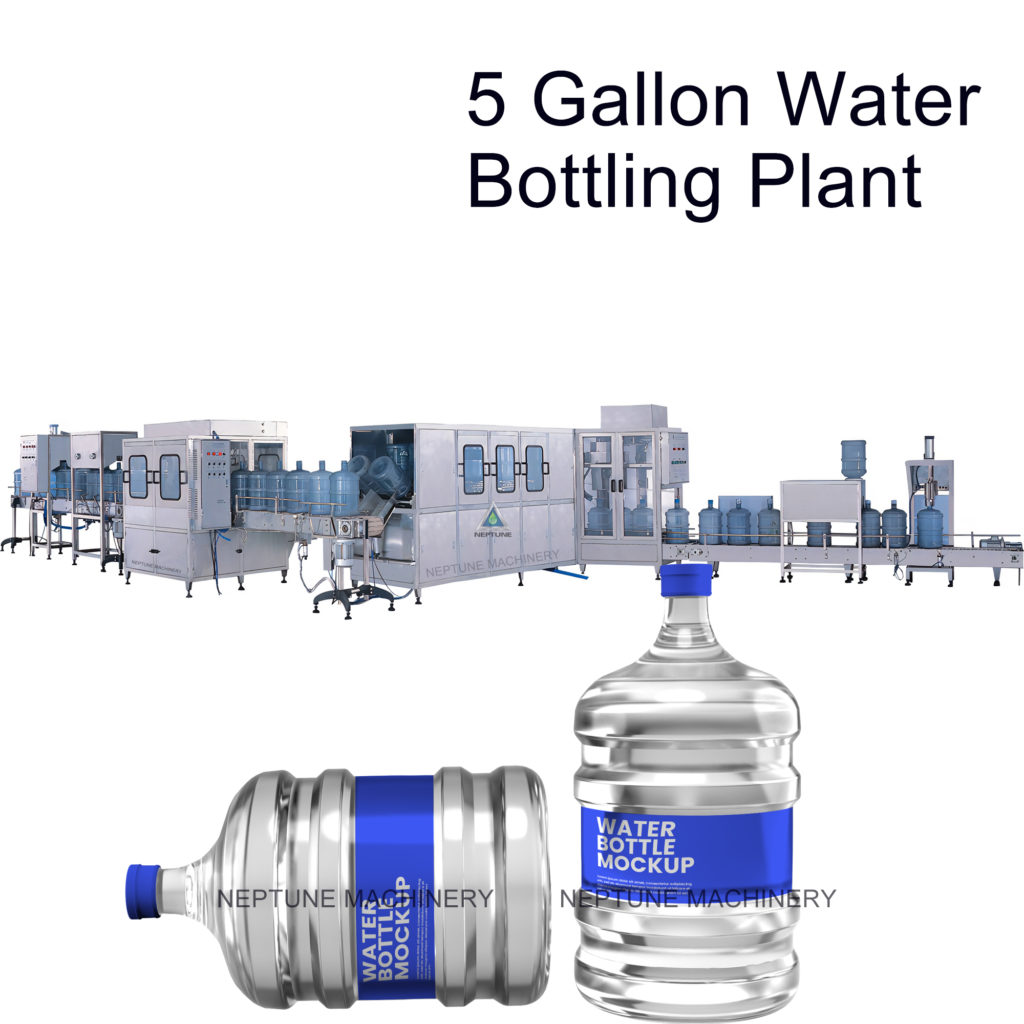 5 Gallon bottle water business key is reuse bottle. And the reuse bottle usually have cap on the mouth and not clean.
The 5gallon bottling line design must take 60% to considerable about treatment the reuse bottle.
Video of the 5 Gallon Water Bottling Plant
| | |
| --- | --- |
| Product volume | 3gallon to 6gallon |
| Speed of production | 200 bottles/hour to 900 bottles/hour |
| Budget | $14000 to $55000 |
| Filling Product | Pure water, spring water, mineral water |
Reuse bottle, 5 Step Washing
5Gallon bottle is rerecycle use. Every time got back from customer need a lot treatment to make sure it clean and safe.
1. Brusher Outside Washing
2. Brusher Intside Washing
3. NaOH push washing
4. City water washing
5. Pure washing push washing.
Like the removed cap, check bottle leak, and brusher washing, water push washing. 60% of this bottling line is to make sure the reuse bottle treatment into clean and safe.
Working Process of the water bottling plant
Worker put empty bottle on the conveyor belt. The conveyor belt will moving the bottle to removed cap machine. 
After remove cap, it will be check if link or not.
Then brusher washing machine will put brusher into the bottle, and washing the bottle inside and outside by brusher.
Then conveyor to loader machine which turn the empty bottle 180degree into filling machine.
The filling machine also have washing part. It is use water push washing. But it have 4 station washing. 1th NAOH food grade medicine washing, 2th hot washing , 3th city water washing, 4th pure water washing. Different with brusher washing, it is push water washing. 
Then bottle will turn 180 degree again for filler pure water. PLC control filler enough pure water into the bottle. 
Then it will be capper by pressure capping. 
Finally, it will conveyor to shrink tunnel for mouth label shrink sealing.( worker need sleeve an mouth label on the bottle mouth)
Automatic 5 Gallon water filling line save labor
All parts contacting water are made of 304L stainless steel, with ozone-resistance and in compliance with food-grade standards. Nozzles are inserted to rinse the bottles thoroughly.Fast cycle system is adopted for heated alkali rinsing, drastically decreasing electricity consumption.Controlled by PLC, it is fully automatic.
All line controlled by PLC, the water bottling machine integrates the functions of 3/5 gallon bottle washing, filling and capping on one set of machine.
It is manufactured in compliance with the standard of American Drinking Water Industry Association, and with reference to overseas newest type of machine
It not only have advanced technology, high automatically, easy operation and reliable performance, but also small size, small weight and beautiful appearance, anti-corrodibility, thorough disinfection, effective antipollution and high quality. The device employs key components of electrical appliances and metal materials manufactured by brand factories at China and abroad. Nonmetallic components are manufactured elaborately by wearable materials, such as nontoxic PP plastic, etc.
Whole line only need 3workers, one putting empty bottle , one looking after by side, one final carry the bottle water to storage room
Small Invest, Big Profit
5 Gallon bottled water business is the most mature water business.
Usually factory directly sell to water shop station or family. The production is not as high as small bottle water plant. For example, The most popular line is just 300bottles per hour. One day 8hour running, it is 2400bottles per day. It is enough for a city of 50,000 peoples.
One 5gallon or 19l 20l bottle water sell at 0.71dollar.
The water materials cost very less. And the bottle is reuse. The mostly cost is the porter who handing the bottle water to customer family.
If factory just profit 0.3dollar per bottle. So one day can profit 2400*0.3=720dollar.
Per year 365*720=26280dollar. When an plant cost 1/10 of the profit.
Different Water Bottling Production For choice
NEP-200BPH Line, 200Bottle Per Hour
NEP-300BPH Line, 300Bottle Per Hour
NEP-450BPH Line, 450Bottle Per Hour
NEP-600BPH Line, 600Bottle Per Hour
NEP-900BPH Line, 900Bottle Per Hour
Production Layout of 5 gallon water filling plant
All equipment needed of 3/5gallon bottle water factory.
---