Concentrate juice prodcution line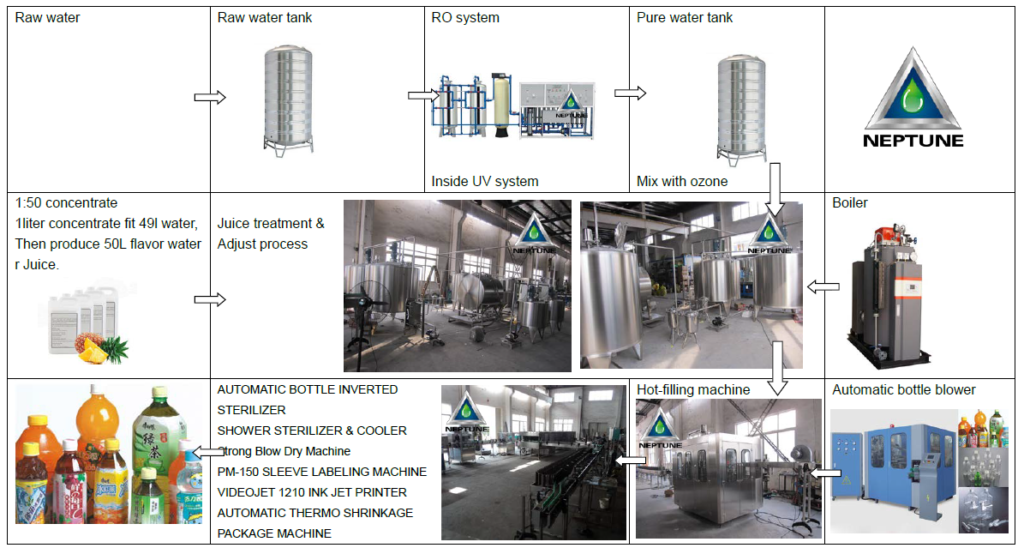 Concentrate juice prodcution line process
Concentrate juice syrup 1:50 uniform mixer with water, then pre-heating to 80 degree, then use Ultra high temperature sterilizer(UHT) increase temperature to 120 degree to kill all bacterial.
After that to next machine cooling the juice to 85 degree and filling into plastic bottle, and fast capping. Because there maybe have bacterial in the inside of the cap. So use bottle pouring machine turn over 180 angel and let the 85 degree juice touch the inside of the cap to kill maybe bacterial of the cap.
Then use Spray cooling machine to cooling the bottle juice fast. Fast change bottle juice temperature from to cold also can lead bacterial death, and ready for sleeve labeling and wrap packing.
1:50 Concentrate syrup for choice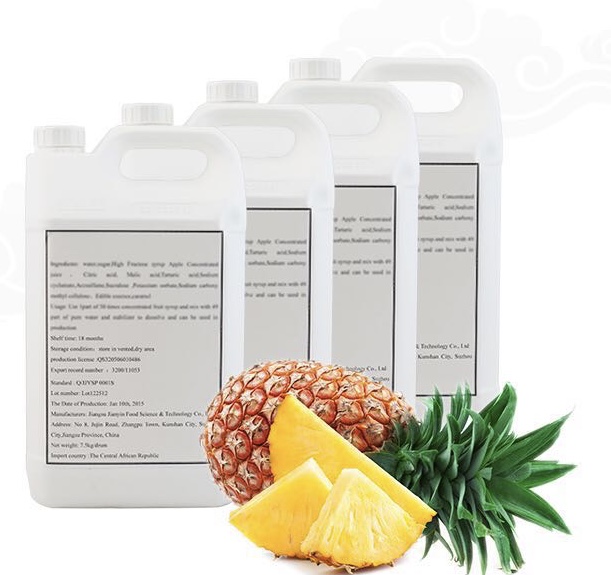 Different concentrate syrup for choice, 1liter mixer with 49liter water to produce juice or cola.
As we know Coca Cola head office just send cola syrup to every bottling branch. And every branch mixer syrup with water and CO2 to produce coca cola.
Because of boiler sugar cost large power and easy dirty. And small bottling production plant difficult to control the proportion and quality.
So that directly buy juice/carbon drink syrup and mixer with water is the best bottling way.
Equipment list of hot filling juice prodcution line
RO water treatment unit
Hot-filling blow molding machine
Juice preparation system ( Plate heat exchanger, Double connection mixer beverage tank, double filter, buffer tank , UHT device , buffer tank, insulation tank
Boiler
CIP machine
Three-in-one hot filling system
Tunnel pasteurizer
Spray cooling machine
Blow Dryer
Ink jet printer
PVC labeling machine
Wrap shrink packing machine
Beverage mixer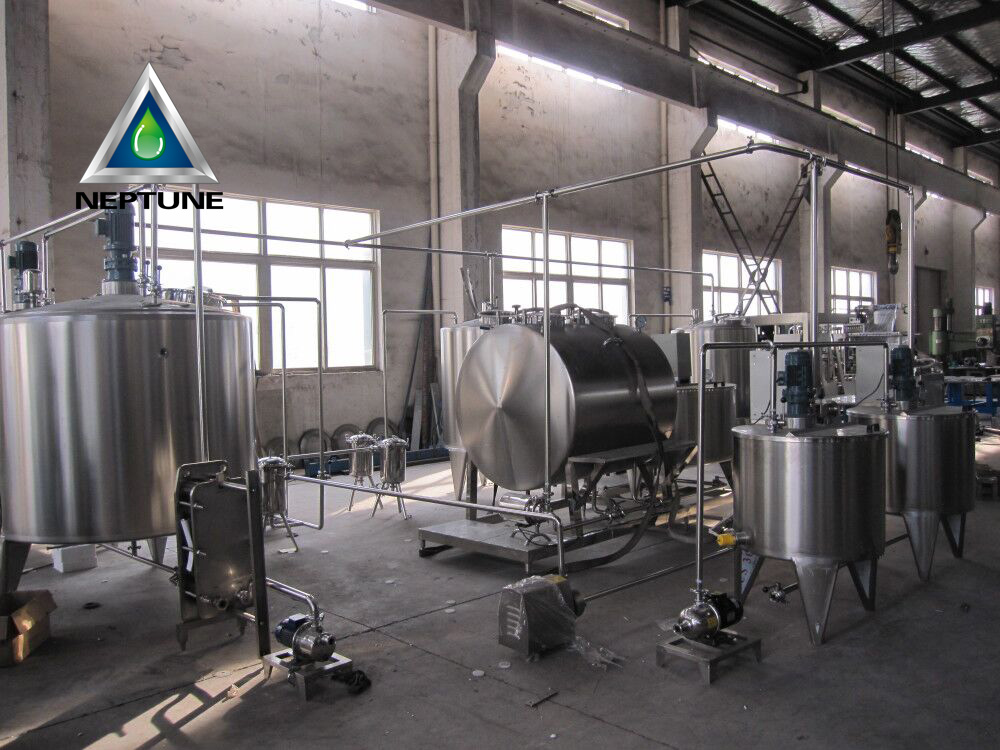 Juice hot-filling washing filling capping machine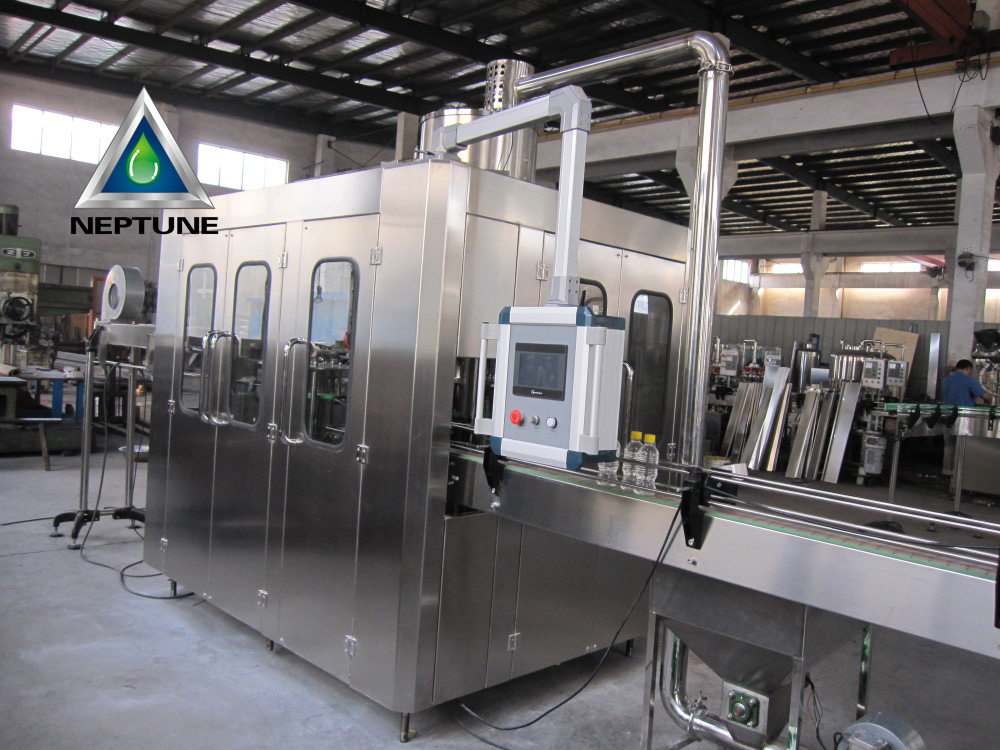 Newest Updated
Panoramic window
Independent PLC controller
Structural Characteristics
Main Machine Type:
1.Entering and Exit Bottle Type: Straight line, that is bottle entering on the left side of the chain, bottle exit on the right side of the chain.
2.Rotational Direction of Each Machine: Clockwise;
3.Washing, Filling Pipeline: Liquid Supplying in the lower
Structural Design: The sanitary demands is thought completely in the unit.
1.The filling cylinder, filling valve and all of parts which touch the materials are all made of micro-carbon stainless steel. It has good corrosion-proof characteristics and it is easily washed.
2.The work table is covered with stainless steel and strictly sealed to protect the driving device in the ground frame. It is helpful for washing table and keep clean.
Filling Quality: High-speed, high-quality filling valve ensure good filling quality.
1.Filling Valve used in RCGF Type Washing, Filling, Capping (Three-in-One) Unit has high filling efficiency. Its registered filling speed is 125ml/s, no filling loss, no leak in exhausting pipe.
2.The liquid level in bottle controls correctly. Its height error is different with the bottle neck diameter. Normally, it does not surpass ±5mm.
3.Filling action is correct.
Capping Quality:
Capping adopts magnetic constant moment to screw cap. The screwing cap moment is adjustable steplessly to reduce cap damaging and the seal is tightly.
Operation is reliable. It adopts PLC programmable control and it has high automation level.
1.It adopts frequency controller to govern steplessly. The speed adjustment is very convenient.
2.It has safe and reliable auto filling system. No-Bottle no-opening valve safe device makes filled liquid no lose.
3.The liquid level of the floating ball is installed to control correctly the liquid height in the filling cylinder to make the filling valve work steadily.
4.It has auto-stop protection while bottle is blocked and start wheel displaces. Once a bottle is dropped and the driving wheel is blocked to make the star wheel displaces, the machine will auto stops at once to avoid the machine damaging.
The run is steady: The design of the bottle chain and material ensure steady supplement of bottles. The start wheel and bottle guide plate are made of stainless steel and engineering plastic product to ensure bottle steady moving at high speed.
Tunnel Pasteurizer and Spray Cooling Machine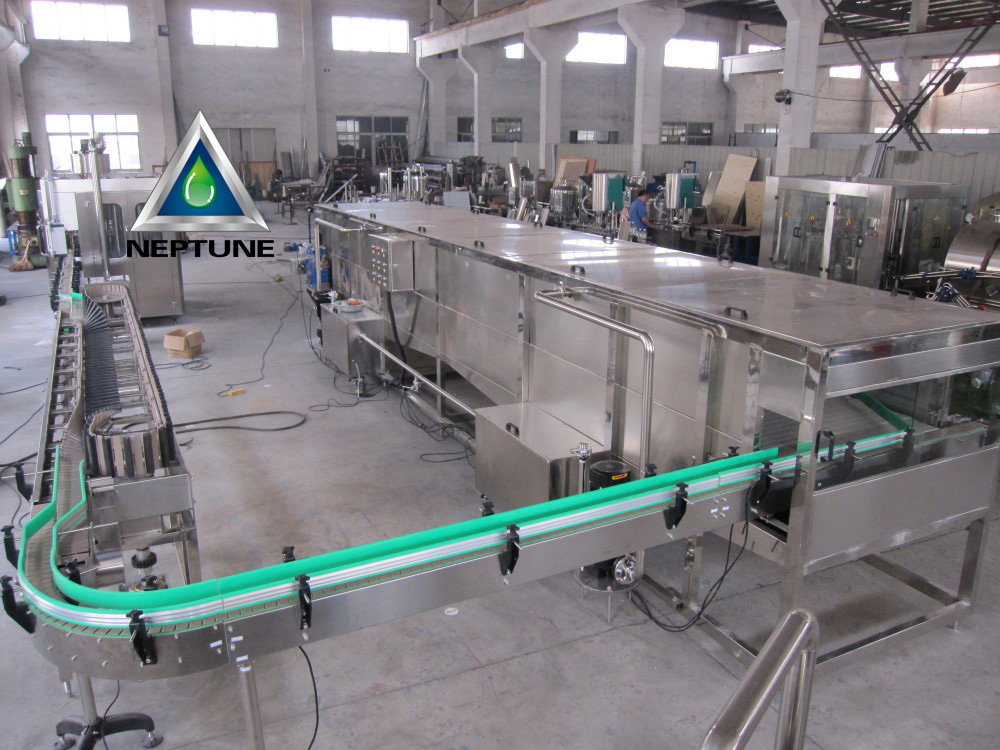 Ultra high temperature instant sterilizer(UHT, Blue one in the picture)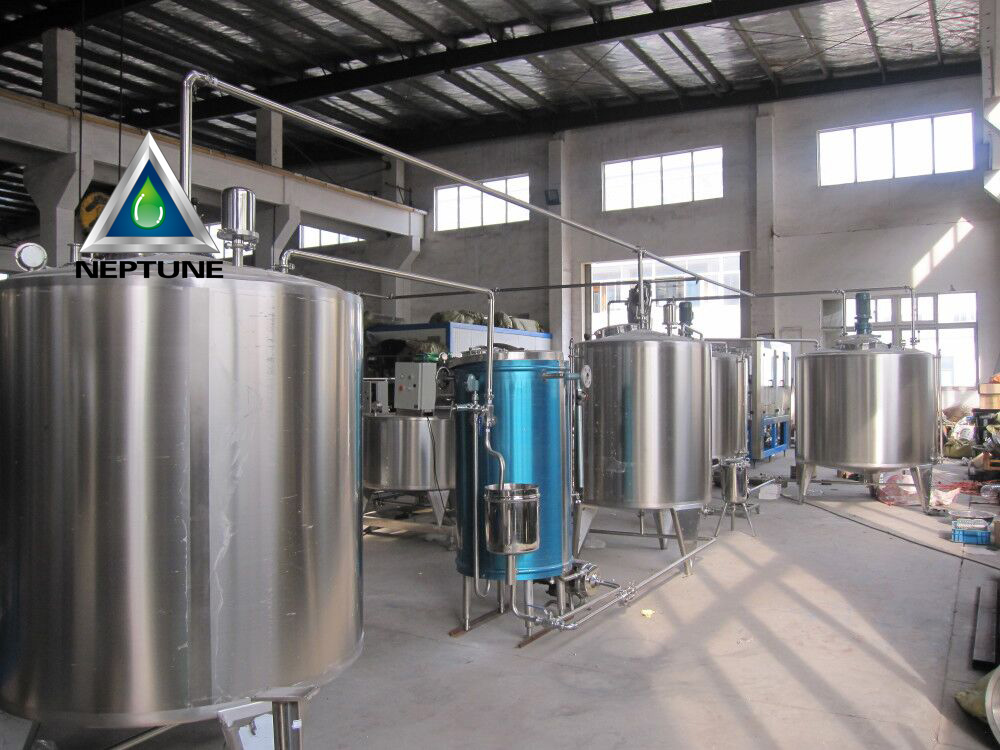 Boiler for supply steam which save big power