5Gallon Bottle Mouth Sealer
The equipment is adopted Heat-generating Tube to shrink the membrane sticking to the cap.
It is manufactured according to the clients' requirement which is used for bottles of 3gallon or 5 gallon after filling. After coming into the market, it is well accepted by water factories from home and abroad.
After purchasing our device, please proceed to moving, installation, testing, operation and maintenance according to this instruction strictly so that the device is in good conditions.
Main technical parameters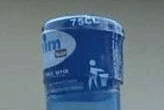 Rated input power 4KW
Electromotor power Conveying electromotor 0.37KW (one)
Power supply Thtree-phase AC380V±5% 50Hz
Rated current 9A
Net weight 65kg
Outer size 2000×520×970 (mm)