NEP-1600BPH Purified Water Bottling Line For Sale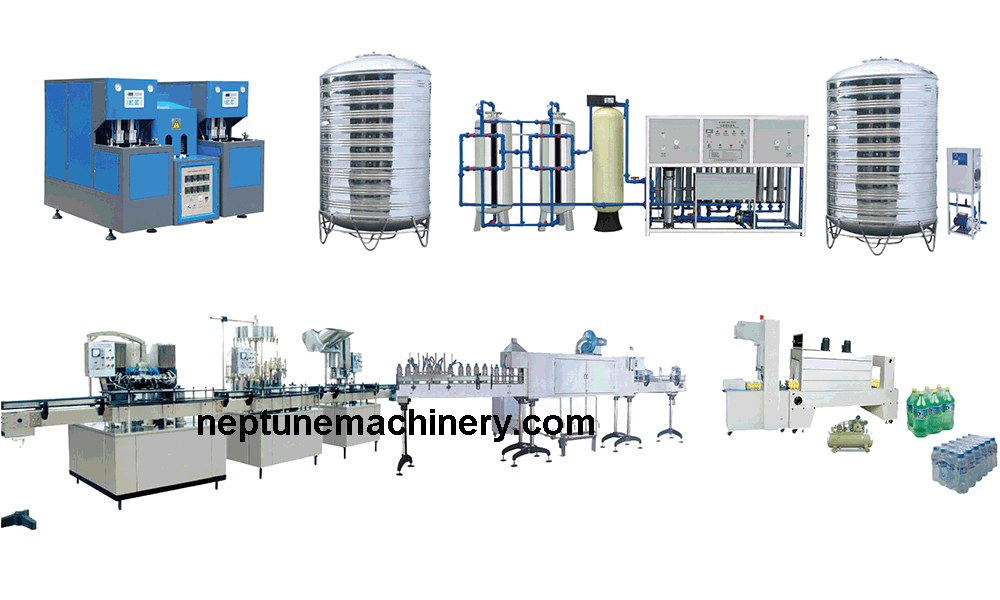 NEPTUNE water bottling line for sale. complete process from blowing bottle, water purify, washing, negative pressure, filling, settle cap, buckle cap till screw cap, labeling, printing, packing.
Factory layout of bottled water production line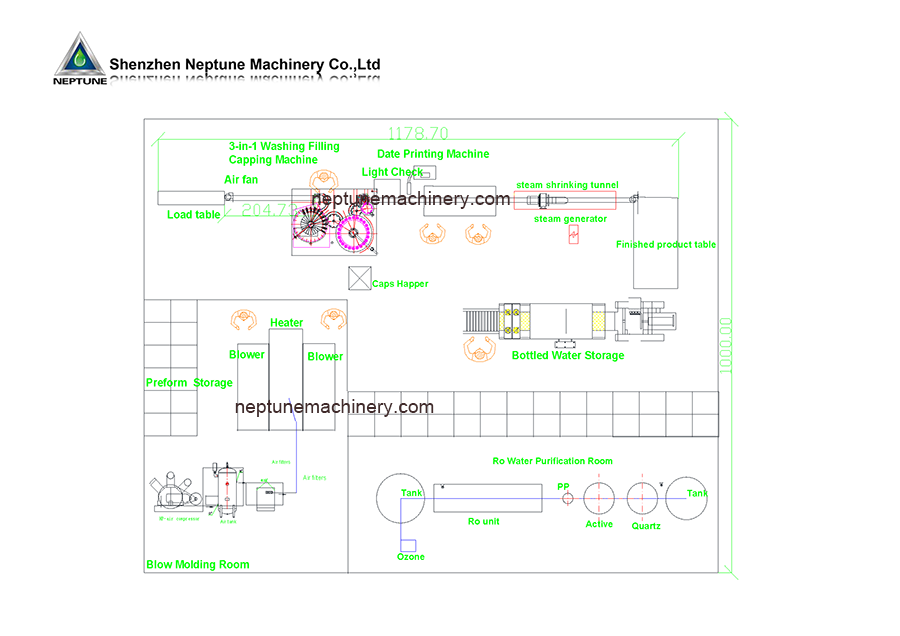 15meter long, 10meter width workshop inquiry
nep-1600bph line just need an small production room, suggestion use first floor which easy for final product carry. Mainly three part: water purification room, blow molding room and bottling room.
nep-1600bph water bottling line for sales included equipment
Semi automatic wrap packing machine
Date printing machine
Two workers putting preform in the heating oven of the blow molding machine, then they move heating well preform into blower for blowing preform into idea shape plastic bottle. RO water purification system will automatic produce pure water and supply the filling machine. Two workers need moved the blowing well plastic empty bottle and loading them into 3-in-1 filling machine. And filling machine have fan will wind empty bottle into system and washing the empty bottle, then filled pure water into empty bottle, final screw cap at every bottled water. And conveyor system will automatic moved bottled water to labeling station. Worker need manual sleeve label on bottled water. Then bottled water with label go through high temperature steam shrink tunnel. The steam will heating every PVC label. PVC label will shrink and got tight on bottled water. Finally, the worker need loading bottled water into wrap package machine and wrap 6/12/24 bottles into one package.
1psc 500ml bottles water materisl cost
Total materials cost USD 0.0515.
If only sell it to agent at USD 0.0915. The smallest line of neptune machinery production is 16000bottles per day. One day can profit USD 640. And one year profit is USD233,600
---
Bottled water production factory