NEP-S2500BPH Latest Bottled Water Production Line
2500BPH Latest Bottle Water Production Line
NEP-2500BPH is the latest bottle water production line. It fit the newest mature once-4cavity semi blow molding machine which will auto fall down plastic bottle. Do not need worker manual got plastic bottle from semi blow molding machine again. Its speed increase to 2500bottles per hour depend on 500ml bottle. And its cost almost very cheap. Then worker manual loading plastic bottle into air conveyor system and it will automatic go into 3-in-1 monoblock bottling machine. Plastic bottle will been washing by pure water, auto filling pure water into bottle, then capping the cap. And it will need worker manual sleeve label on every pass bottle water, bottle water with label go through shrink tunnel so that label will shrink and got tight on the body of the bottle water, final film wrap and shrink packing machine. It fit 2000L/H whole reverse osmosis water purification system. RO system supply the most purified water for bottle water production.
Parameter

Production capacity: 2500BPH.
Filling bottle specification: 250ml-1500ml.(Up1500ml bottle machine need customize,not need premium)
Bottle Diameter: 50~100
Bottle height: 150~235mm
Labor Inquiry: 6workers
NEP-S2500BPH Bottle Water Production Layout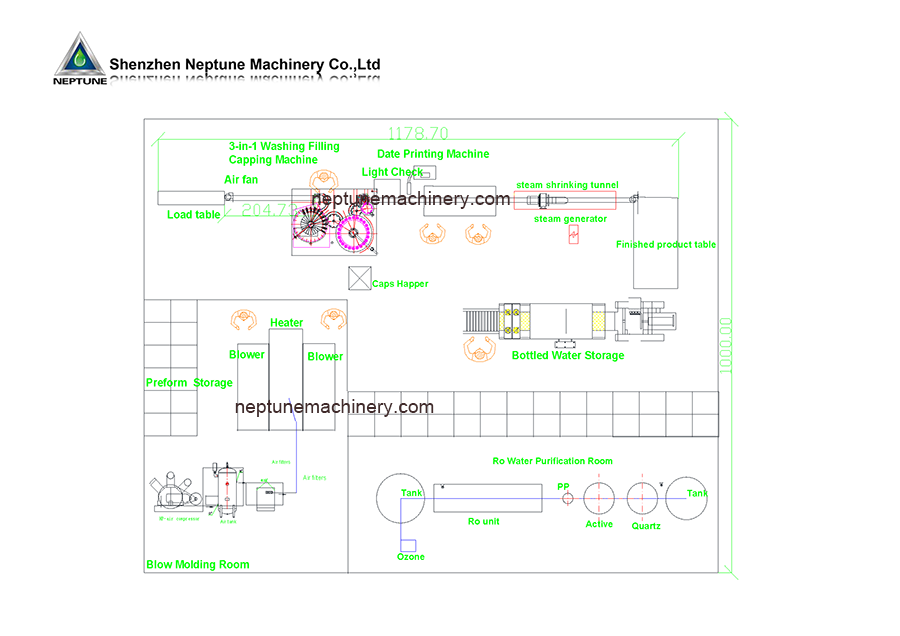 Production line equipment list
4 Cavity once blow molding machine
Automatic 8-8-3 washing filling capping machine
Manual sleeve labeling system
Semiautomatic wrap packing machine
Ink jet printer
2000LPH RO water purification system
4cavity once blow molding machine video
It once put and produce 4piece bottle, then auto fall down into idea box with manual hand. Save 1worker, more fast and safe.
It is suitable to produce differently shaped bottles from PET tube. It is widely used to produce Mineral water carbonated drink, candy sauce, juice, medicine, cosmetic and oil bottle etc.
Double-axis curved arm clamping, stable clamping and fast running speed, using far-infrared rotary oven for even heating.
The pneumatic system is divided into two parts: action and blowing, to meet the needs of different pressures of action and blowing, and to provide stable high pressure to blow shaped large-volume bottles.
This machine is equipped with a muffler.
This machine is divided into jog and semi-automatic modes.
This machine is small in size, low in investment, easy to operate and safe.
The machine is small with low cost, easy and safe to operate. And it meets the need of beverage manufacturer, polyester bottle producer in city and countryside and is ideal bottle blowing equipment for water bottle.
8-8-3 washing filling capping machine
Washing-Filling-Capping (Three-in-One) Unit made by our company is a new product which is researched and developed on the base of importing ,assimilating and absorbing the advanced technology of the same kind of domestic and foreign products, combining several-year-production experience of the company. The unit collects washing, filling and capping together. It is driven by a transmission motor. It has advantages, such as high automation level, compact structure, beautiful appearance, convenient and simple operation, safe and reliable and adjustable continuous production capacity and others. It is an ideal no-gas liquid filling production equipment in the country. It is mainly suitable for filling and capping of round or square polyester bottles. According to the demands of different specifications of users, it is only changed a little in design to meet the user's demands.
| | |
| --- | --- |
| MODEL | NF 8-8-3 |
| Production Capacity | 2500 bottles/h |
| Washing Head Quantity | 8 |
| Filling Valve Quantity | 8 |
| Capping Head Quantity | 3 |
| Filling Temperature | Normal temperature |
| Filling Type | Constant Pressure Filling |
| Main Motor Power | 3.42KW |
| Bottle diameter | 40-70mm |
| Bottle height | 130-260mm |
| Air resource pressure | 0.5Mpa |
| Filling Water | 1-1.5T/H |
| Consume Water | 0.8T/H |
| Control Type | PLC |
| Central Diameter of Filling Valve | 320mm |
| Central Diameter of Capping Machine | 120mm |
| Central Diameter of Washing Machine | 320mm |
| Dimension | 1850 X 1450X2000mm |
| Net Weight: | 1200kg |
8-8-3 filling monobloc works as follows:
Bottles are fed from conveyor chain into the filling machine monoblock via star wheel. Bottle clamp installed on the rotary wheel of the rinse will grip bottle mouth and make a 180° turn along a guide track to face the bottle mouth downward. In designated section of the rinse, rinsing water will jet out from special nozzles to flush bottle inside wall. After rinsing and dripping, bottles gripped by bottle clamp will make another 180° turn along a guide track to resume bottle mouth facing up position. Clean bottles are discharged out of the rinse by a star wheel to feed the filler. After entering the filler, bottles are retained by neck supporting carrier plates, which are actuated by bottle carrier mechanism to raise them to engage with filling valves. Filling valves are opened by bottle presence signals. After finishing filling, valves are closed by valve closing mechanism to further stop venting to complete the filling process. Bottle carrier mechanism is lowered by a cam to disengage filled bottles with filling valves. Then bottles are transferred into the capper by a neck handling star wheel. Anti-rotation blades on capping heads will seize the bottleneck to prevent it from rotation and hold it in a upright position. The twist-on capping head will make revolving and rotating movement along with the machine to finish the complete capping process of cap picking, placing, twisting, and disengaging under the control of a cam. A discharge star wheel discharges finished bottles onto discharge conveyor belt to be conveyed out of the filling monoblock.