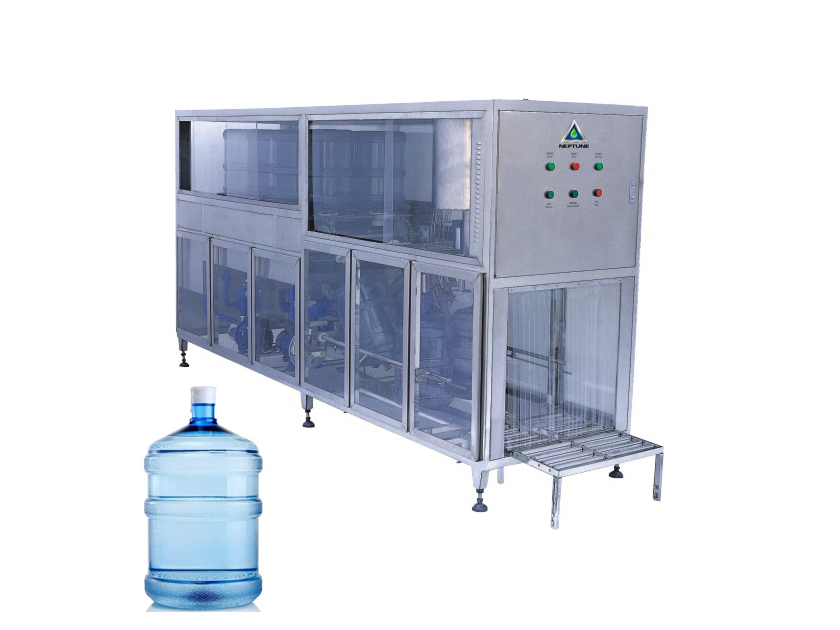 Rinser filler and capper all in one bottled water machine for 3 gallon to 6 gallon bottled water package. It is famous as one refill 5 gallon water station all over the world. Fully automatic and high level filling water bottling machine.
1. 3-5Gallon bottle, one machine only can setting one type bottle.
2. Included washing bottle, filler water into bottle, pressure capping.
3. Production : 300bottles per hour
The device employs key components of electrical appliances and metal materials manufactured by name brand factories from home and abroad. It is not only with the advanced technology, high automatization easy operation and reliable performances as the genuine device from abroad, but also features with small size, small weight and beautiful appearance, anti-corrodibility, thorough disinfection, effective anti-air pollution and high quality, which is available for the production of 5 & 3 gallons bottle filling, and be applied to the food & drink industry, medical industry and chemical industry widely.
Layout of 300bph 5 gallon water bottling machine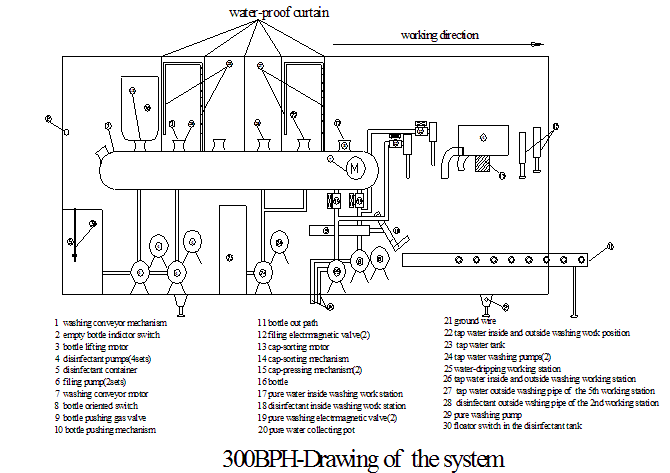 Technical parameters of the 300bph bottled water machine of 5 gallon
Production capacity 300 Buckets/hour
Bottle's capacity 18.9 Liters (equal to 5 gallons)
11.3 Liters (equal to 3 gallons)
Bottle's specification (mm) Φ270×490×Φ56
Φ230×420×Φ56
Cap's specification (mm) Φ58×40 (strip: L18mm, W: 7.5mm)
rated input power 8.3KW
Heating tube 4.0KW
Electromotor power Conveying electromotor 0.37KW
Disinfectant Inside washing pump 0.37KW×2
Disinfectant inside and outside washing pump 0.37KW×2
Tap water inside and outside washing pump 0.37KW×2
Pure inside washing pump 0.55KW
Filling pump 0.55KW×2
Cap-aligning electromotor 0.06 KW
Controlling power supply 1-phase AC 380V±5% 50Hz
Rated current 28A
Net weight 423kg
Outer size 3525×960×1600(mm)
Requirement of air compressor 0.1 M³ 0.17 M³/Min 0.8Mpa/Cm²
Requirement of water supply 5.0M3/H