Liquid Pouch Bagging Filling Machine
Liquid bag packaging machine is widely used for packaging various liquid, such as pure water,city water, mineral water,spring water, milk, soybean milk, fruit juice, beverage, ice drink, soy sauce, vinegar and wine, etc. The sachet filling machine makes use of a single layer of PE film as packaging materials. The pouch filling machine automatically sterilized by ultraviolet radiation, it is able to precisely fill, seal and cut at one time. The liquid filling machine is easy to operate and run smoothly with good performance and low failure rate.
Les parties de traitement de cette ensacheuse automatique sont toutes fabriquées en acier inox.Le remplissage de pompe, la fermeture thermique, la fixation de la taille de sac, l'emballage,la régulation de température, la fermeture et encore d'autres processus sont commodes et fiables.Fermeture en dos, capable d'imprimer la date de production. Elle utilise le plastique polyéthylène.Elle convient à emballer la sauce de soja, le vinaigre, vin de cuisine, vin, l'alcool désinfectant,le jus de fruit, lait,yaourt, lait de soja et autres produits liquides.
Technical Parameters
Water Pouch Packing Machine Capacity of Production: 1500~2200B/H
Pouch Packing Machine Packing Volume: 100~500ml/B
Filling precision: ±1%
Bag PE Film width: 240mm or 320mm (optional or choose others)
Motor power: Singel phrase, Three phrases 1.1KW
Vertical hot seal: 0.3KW;
Horizontal hot seal: 0.5KW
UV sterilizer lamp: 1.5KW
Power supply: AC220V/Hz or AC380V(three phrases)
The weight of the Sachet Water Packing Machine: 360kg
Normal Type Sachet Filling Machine Dimension(L×W×H): 750*700*1700mm
Pouch Filling Machines With photocell monitoring type Dimension(L×W×H): 750*700*1700mm
Functions
1. Bag (sachet )-forming
2. UV sterilization
3. Thermal vertical sealing
4. Date lamination
5. Linear bag traction
6. quantitative filling
7. Thermal transverse sealing
8. Bag-cutting
9. Automatic counting
Two type for choice
Normal Liquid pouch filling machine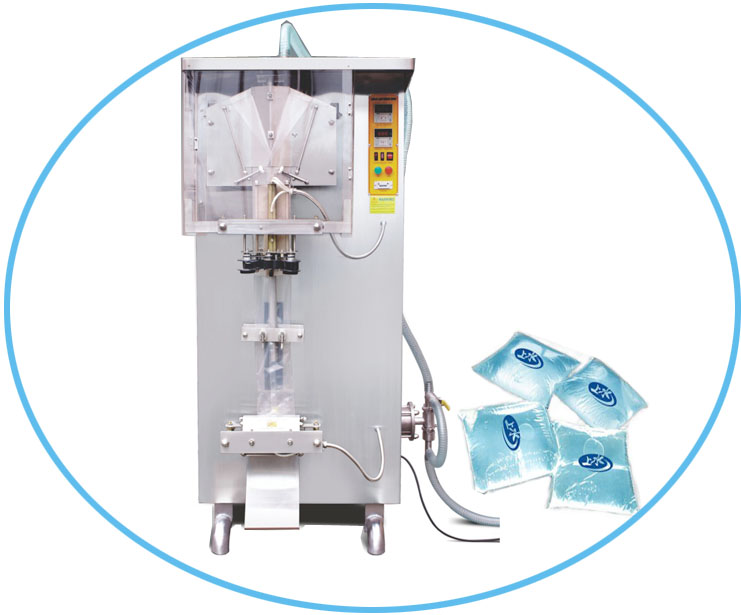 With photocell monitoring Liquid pouch filling machine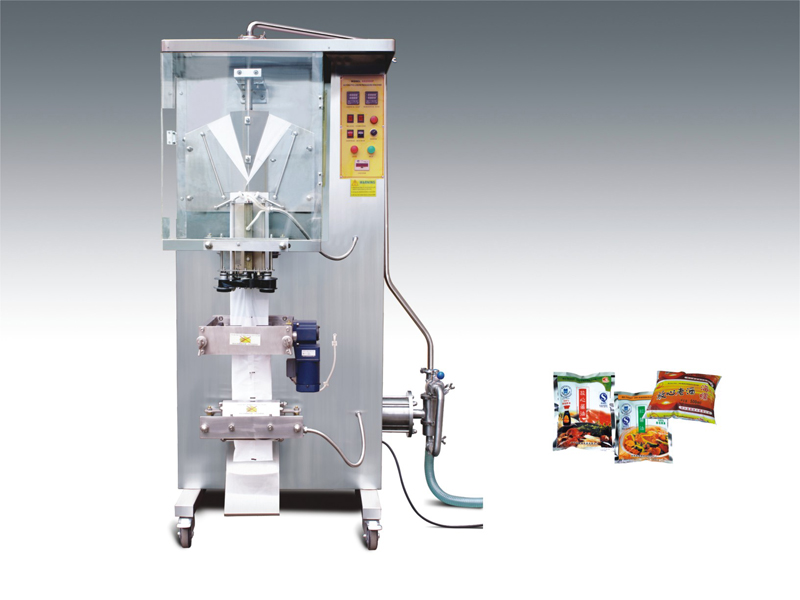 What's the difference between photocell monitoring sachet packaging machine and none photocell monitoring water pouch packing machine?
Photocell monitoring sensors are used to identify the marks on the sachet / pouch printing to make sure each product is in the same look, while the none photocell monitoring can only cut and seal in the preset length.
Operation Gist
1.The pouch filling and sealing machine installs at aeration and dry place, is full of sunshine, makes it stable. This automatic filling machine can fix four feet if neccessary
2.The tube which is going to fill material fills full of water (or 75 Calcohol),the rubber tube cover the material out(avoid horinzon seal copper cake and then lead to sewer or recycle .The bagging equipment takes 5-10minites to wash pipe while starting the machine.It makes sure to reach the standard of food sanitation.
3.The plastic rool insert to the wheel, and adjust the central line, and make sure the same width when the roll is molding. Then screw the bolt separately. It is good through adjusting the pole of spring stress, ration automatically sway automatically. It is the best for braking well.
4.The sack pass through the tube, then buckle shaped utensil to make sure the strip symmetry. Date adjust to the daily date from up to down yearXX monthXX dayXX.
The vertical hot seal temperature adjusts to 120~150℃,the horizonal seal temperature adjusts to 180~240℃(No more than260℃, or the head of hot seal film is easy to damage),the exact temperature will be adjusted according to the film material and thickness.It can start to fill after pre-heat 20 minites, then it can produce continuously as long as the power is not off.
5.This Sachet Packaging Machine can get the length of sack through adjusting the positon of pole on the winch.Adjusting-in is short, adjusting-out is long. First the power is off, then adjust. First loosen nut then adjust knob. Screw down the nut before starting the machine.
6.The sachet water filling machine can get the filling volumn throught adjusting ration pump on the winch. Adjusting-in is reduced, adjusting-out is enlarged. The same method with 5.5.
7.The piston is adjustable module. When it used for a peroid, if it is found the piston pole droped, you could loosen the screw on the end piston. Screw piston clockwise, it makes piston large and it will eliminate the phenomonon of drop. ( Note: the adjusting must be small, or the piston is easy to damage). Screw down the screw to prevent loosening after adjusting.
8.The liquid sachet filling machine is ok to press the button and no need workers when it works. The output will show automatically by the counter. The the film is used up, it need to stop at once, and change into another film, then provide liquid and the machine starts.
The PE Bag Water Packing Machine needs to pre-treat and filter when the solid substances is more in the tube which fill the liqui.When the vertical and horizonal seal no viscidity is worn after a peroid, it may loosen the tube to adjust. The bag filling machine can work after screwing down.( it is useless to adjust when it is worn completely). The liquid in the tube can not be more than 0.5meters to insure the precision. The bag filling machines can not be close when starts the machine, and when it has control valve in the liquid pipe.
9.Inspect the vertical and horizonal seal copper cake in a certain time, and clean up the sundries. Or the small bag filling machine will affect the hot sealing. The bag filling and sealing machine can not be cleaned with metal tool and sand paper, or it will damage the surface and can not work. The bag filling machinery should be cleaned with cloth or wooden organic solvent after the temperature is down, and clean up the sundries.
10.The bag packing machine should rub methylsilicone oil on the vertical and horizonal seal cloth with a certain time, in order to prolong the life of no viscidity cloth and increase the hot sealing.(methylsilicone oil model:210~350CS)。
11.When it appears non-well seal, one sack connects another sack, leakage etc. it forbids pick it up with hands and kinds of tools. The liquid filling machinery should be stoped at once.
12.The automatic bag filling machines is the best condition of all the programme and dimension before delivery. If it needs experienced technician to maintenance, and write down the dimension, then it can take down.
How to drink a sachet / pouch product?

Sachet / pouches may be torn open from the corner and poured or a provided straw may be inserted into the sachet / pouch.
Where can I find the source of consumables, say PE film?

To save shipping freight, we would recommend our customers to find the PE film locally, but we also offer PE film including printing at a competitive price, and if you are into the most popular sachet / pouch pure/mineral water business, we can also offer you a total solution including the water treatment, sachet / pouch filling machines, packaging plastic material and even factory design. Pls consult our sales engineer for more info.
Invest feedback in Sachet water, Bagged Water, Pouch Water business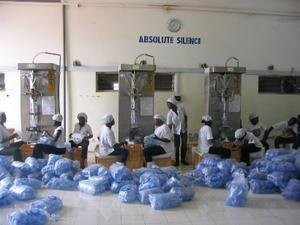 Packaged Water into plastic bags and produced the sachet water, can be a very profitable business while invest is very low. The most important thing is the cost of produce the water bags and the bag water selling price. It is the cheapest cost way to package water do to the amount of plastic used. The average cost to produce a bag water with a size of 250-500 ml is less than $0.01 (USD) with a wholesale price of ranging from $0.02 to $0.10. This is a very good markup with over 100% profit margin, and is most successful when selling in bulk to make a good profit. In many Developing country countries. There is a very high demand for safe drinking water and sachet water is the best solution to provide safe drinking water at an affordable price. The key to having a successful sachet water filling plant is to be located in an area with a population of over 25-30,000 people that lack safe drinking water. The bags water do contain a smaller amount of water than most bottled water so people will need to buy more bags. Because the cost is low it is a product that most people can easily afford and will buy. In areas with a larger population there are water bagging or sachet plants that are making profits well over 100,000. USD. Establishing a bagged water plant can easily be a very profitable business with low start up costs!
Water purification and bagging plants
RO water purification system is use to produce pure water and supply pure water for sachet filling machine. It make sure the bag water quality and make sure good drink water. It made your sachet water brand good. Most water sachet water packaging plants are in developing countries with a very large percentage of poor people where the living conditions within the countries are relatively low. Most of the time there is very poor or no infrastructure at all resulting in big problems with electricity and water. The electrical problem can be handled with a generator and in order to get water in most cases you will need a deep well or even have water trucked to site. You can start this business in house. But make sure you need an good RO water purification system to make sure the pouch water quality. Ro system also is widely use in purified bottle water plant. It is the high standard.
Benefits of water bagging, pouches or sachet water: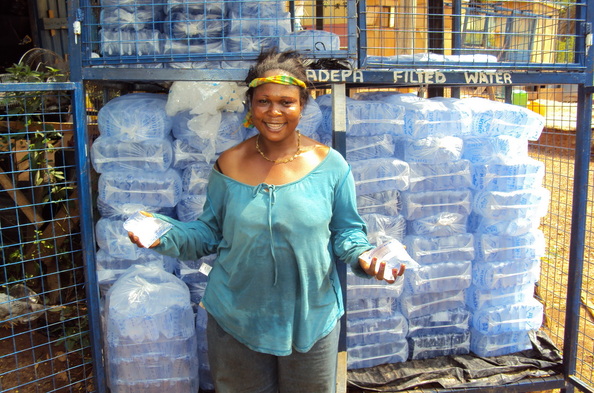 Only affordable way to package water in poorer countries.
Can be very profitable; especially in large volume.
Can have printed bags.
The rolls plastic can be shipped at a very low cost vs. bottles
Much better use of plant space as the units are compact.
More environmentally friendly do to less plastic than bottles
Much lower cost to set up plant for bagging vs. bottles.
Street sellers will sell to create jobs.
A small plant running 5 bagger units could produce 80,000 bags per shift. The cost to produce each bag is under $0.01. With a markup of $0.01 you would be able to make 800.00 a shift and many plant will run 16 or 24 hours a day in times of high demand. At this rate the plant could make $2,400 per day in profits when selling at the lowest price possible. If selling at a $.06 profit per bag then the profits would be $4,800.00 per day.
How Can We Help?
We specializes manufacturer water purification equipment such as water filtration systems to produce pure water for your sachet plant. We also offer sachet filling machine and water bagging machine that are currently used worldwide. We will assist you with establishing your bagged water purification and packaging plant from the conception of the idea to when you are ready to open your plant. Please call or email us to find out more on this profitable business and to see how Shenzhen Angel can help you start your operation.
Normal type video
Photocell monitoring type
10 Days Delivery, Payment by T/T
Life-long maintance consulting service by Email, and Telephone. If necessary, we send our engineer to amend it abroad for you. However, the cost for our engineer such as dormitory,travel cost is on buyer's account.
Warranty: One year factory maintance guarantee and life-long service by Email, and Telephone information.